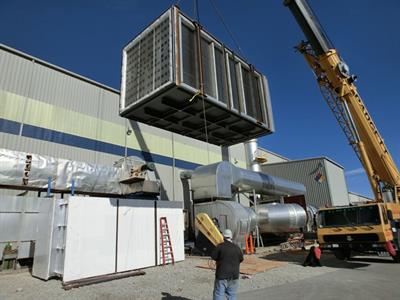 Industrial energy and heat recovery solutions - Energy
Rising fuel and electric costs, along with global warming concerns have changed the way industrial facilities regard energy consumption. Process equipment and air pollution control systems installed several years ago may not reflect the new energy cons
Some of the equipment being used to accomplish these goals are the same energy recovery products that Anguil has been supplying since 1978:
Air-to-Air Heat Exchangers (Shell & Tube, Plate Type)
Air-to-Water Heat Exchangers (Economizers)
Air-to-Steam Heat Exchangers (Waste Heat Boilers)
Air-to-Fluid Heat Exchangers (Oil, Glycol Loop)
Power Generation
Energy Audits
With a custom designed heat exchanger system from Anguil, you can utilize exhaust heat from energy consuming processes or exhaust stacks and return it as process air, preheated combustion air or plant heat. From the smallest exhaust stream (100 SCFM) to the largest of exhaust streams (>100,000 SCFM), the Anguil family of heat exchangers can help you achieve up to 80% heat recovery. Trust Anguil to design the most cost-effective solution for your specific process.