Jules Kortenhorst is the Chief Executive Officer at the Rocky Mountain Institute (RMI). He is a recognized leader on global energy issues and climate change. His background spans business, government, entrepreneurial, and nonprofit leadership. GLOBE spoke with Jules about his work at RMI and inline with his participation at the upcoming GLOBE 2014 Conference, taking place in Vancouver, Canada, from March 26-28.
GLOBE: You have a long history with the energy industry, having worked for energy giant Royal Dutch Shell and as the CEO of a Netherlands-based bioenergy company (Topell Energy BV). How do you feel your previous work in the energy industry has prepared you for your current role as CEO of the Rocky Mountain Institute?
JK: There is no doubt that the energy industry has many unique aspects. Having worked in the industry before helps me understand the challenges, as well as the opportunities, that result from the energy revolution for which we now advocate. Large companies like Shell will find it hard to adjust; but if they do, they have a tremendous contribution to make into the future.
GLOBE: The energy sector worldwide is undergoing a profound transformation. New technologies have opened up vast reserves of untapped resources that, in turn, have upset long-established relationships in the energy marketplace. What advice do you have for policy makers and investors when it comes to making the right decisions given that there is so much uncertainty about the future global energy mix?
JK: There are a few interesting trends that both policy-makers and investors should consider:
First, there is the cost trend line. On the one hand, we have shale gas which is currently very, very cheap in the US. But what is the medium-term outlook for natural gas costs? Is the trend up or down? How come Shell has just concluded that it cannot make money in this business in the US? And at the same time, the cost of reducing energy demand (i.e., efficiency) or renewables (in particular solar and wind) is going down rapidly. Those curves will determine future returns.
Second, there is the challenge of climate change. IPCC has told us that we can only emit a further 560 Gt of CO2e. What is the stranded asset risk associated with large fossil fuel companies beyond the immediate horizon?
Finally, there is the question of the consumer. An electric car, maybe even on a shared basis, is rapidly becoming cool and sexy. LED lamps are now in reach, and so much easier, with higher functionality. The Nest is now part of Google: I think the old energy sector will soon find itself in the same position as the mainframe companies in the late 80s / early nineties.
GLOBE: You are also the founding CEO of the European Climate Foundation (ECF), a major philanthropic initiative to promote climate and energy policies that greatly reduce Europe's greenhouse gas (GHG) emissions and mitigate climate change. Do you think the business model for this initiative could be applied in other jurisdictions and/or on other continents with equal success?
JK: It has been. In fact, ECF was modeled on the Energy Foundation (EF) in the US, and my dear friends at EF were instrumental in helping ECF's success.
GLOBE: The Rocky Mountain Institute (RMI) is applying its "Reinventing Fire" initiative to focus on four core energy sectors – transportation, buildings, industry, and electricity – with the hopes of transforming global energy to become "cleaner" and more efficient. Which of RMI's current initiatives do you feel have the greatest overall potential for reducing global GHG emissions?
JK: There are two parts to that answer. First, we have to look at the integrated picture and work on all the aspects of the energy portfolio at the same time. So, although in the short run maybe our electricity work abates most CO2e, it can only be successful if we deliver more efficient buildings, if the electric car becomes integrated into the grid, etc.
But unrelated, we are doing the same work in China now. Reinventing Fire China, which we carry out together with the Lawrence Berkeley Lab, the Energy Foundation China, and the Energy Research Institute of the planning commission of the Chinese government, will hopefully inform China's next 5-Year Plan and thereby have a huge impact.
GLOBE: You will be joining other energy industry executives from around the world at GLOBE 2014 this March 26-28 in Vancouver, Canada, as a speaker in a session on The Global Energy Mix: Opportunities & Realities. What message do you hope to bring to the international delegates and audience that will be attending GLOBE 2014?
JK: The changes in the global energy industry are now rapidly accelerating. A magnificent but challenging opportunity for creating wealth while addressing climate change and sustainability is emerging. These are exciting times.
Jules Kortenhorst is the Chief Executive Officer of Rocky Mountain Institute. He is a recognized leader on global energy issues and climate change. His background spans business, government, entrepreneurial, and nonprofit leadership. Prior to RMI, Jules was CEO of Topell Energy BV, a company that developed a cutting-­‐edge process for the production of solid biofuel. He also served as the founding CEO of the European Climate Foundation (ECF), the largest philanthropic organization dedicated to policy development and advocacy on climate change in Europe.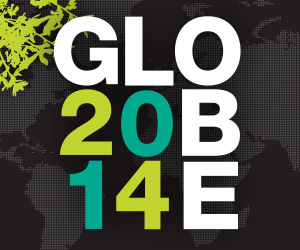 At GLOBE 2014 Jules will be part of a discussion on The Global Energy Mix: Opportunities and Realities. They will discuss how policy makers and investors make the right decisions in an environment of uncertainty about the future of energy. Speakers in this session include:
Jules Kortenhorst

, CEO, Rocky Mountain Institute

Ken Lueers

, President, ConocoPhillips Canada

Marie-José Nadeau, Chair, World Energy Council & Executive Vice President, Corporate Affairs & Secretary General, Hydro-Québec