New Age Solar Technologies Ltd.
New Age Solar Technologies Ltd. is a Ugandan Private Social Enterprise / Company dealing in Sourcing, Procurement, Planning, Designing, Supply, Distribution, Integration, Installation, Maintenance and Repair of various Solar Energy Solutions which deliver modern energy services to Households, Social Institutions, Commercial Enterprises and Communities, especially those located in the remote off-grid communities where over 78% of the population reside and earn a living. Being a Social Enterprise, the core Business of the Company is aligned with the Uganda National Development Plan-3, the UN-Agenda 2030 for the Sustainable Development Goals (SDGs), which is the global plan of action for people, planet and prosperity.
Company details
2kms off Entebbe road on Lweza - Kigo road at New Age Mall First floor Suites NAM 11- NAM 13
,
Kampala
,
Uganda
Business Type:

Service provider

Industry Type:

Market Focus:

Globally (various continents)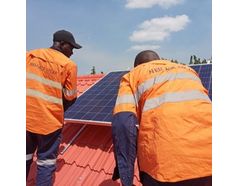 To achieve the SGDs collaborative actions and joint investments by private, public and development partners are required. In this regard we do work with government departments, development organizations, financial institutions, energy-poor communities, CBO/CSO/FBO and others stakeholders wishing to make use of wide knowledge and experience in the field of utilizing, distribution & deployment of clean solar-based modern energy services to the dominant energy-poor off-grid communities of Uganda and other emerging economies and developing countries.
We have broad experience and working networks in Uganda's relevant economic sectors such as utilizing solar / renewable-based energy options for improving socio-economic service delivery, adoption of productive applications of clean energy, while protecting the natural environment.
NB: Being a founder member of USEA, the Company act as an independent broker between policymakers and solar energy businesses and where necessary mobilize capacities from knowledge institutes and international development organizations to arrive at feasible development approaches and implementation strategies.
Our Solutions
The Company offers various Solar Energy Solutions that deliver critically Modern Energy Services for Domestic, Commercial, Medical, Social / Community Applications which include:
Stand Alone Solar Energy Solutions.

Solar Power Hybrid Solutions / Systems.

Stand-by Power Back-Up Solutions.

Solar Powered Medical, Domestic, Commercial Refrigeration / Freezers.

Solar Powered Water Pumping Solutions / Systems.

Solar PV Hybrid Systems for Micro Grids for off-grid Social Institutions.

Solar Powered Water Pumping Solutions / Systems for community water delivery.

Solar PV Hybrid Systems for Micro Grids for off-grid Commercial Centers.

Solar Powered Water Pumping Solutions / Systems for Agricultural Applications.