Hualianneng

- Battery CNC Welder 18650 21700 26650 32700
Widely applied in the mass production of EV/ESS Battery Pack,HLN-SM01 Double Side Automatic Battery Pack Spot Welding Machinew is a general platform of automatic processing technology based on microcomputer, suitable battery pack spot welding and assembly in the factory. Compared with manual spot welding, the efficiency and accuracy of welding have been greatly improved. Humanized design makes the operation and debugging very easy and convenient. Design of components built-in makes appearance more concise. MD-ADW is double welder design, the positive and negative pole of the battery can be welded at the same time, the efficiency is improved by 2 times compared to the single side welding machine.
Ultimate device for building battery packs:
The welding voltage locking technology prevents the grid voltage fluctuation from affecting the welding current;
Adjustable welding pulse width, small welding spatter, welds color no changing.
Two sections current monitoring and comparing function, abnormal current sound and light alarm, effectively preventing the rosin joint
Fault self-diagnosis function,display the corresponding fault points,convenient maintenance.
Motion control card embedded programming module, automatically generate the welding pole movement track and save in the system file through inputing the space and group number after confirming the relevant position. Easy to learn programming
999 groups welding program and parameters data storage capacity in the system, switching program per different products.
The welding pole equipped with photoelectric induction to ensure that the nickel strip located in position before spot welding, eliminating the false welding from the start.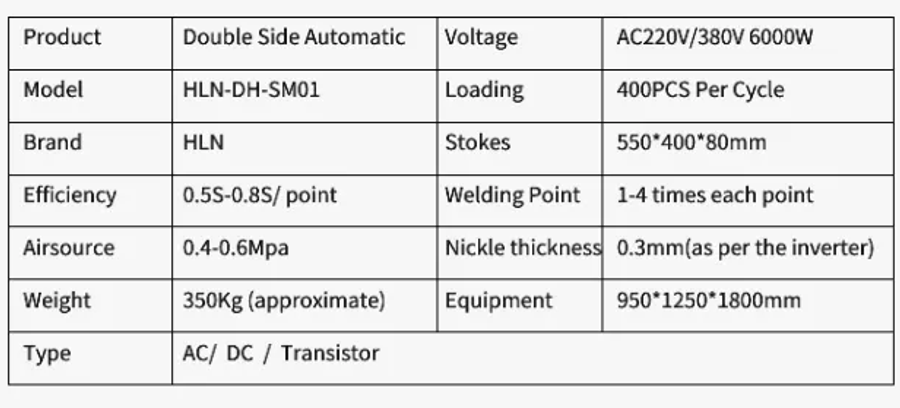 As a combo of manufacturer and trading company, we are providing one-stop material and equipment solution for battery pack assembly line for more than 12 years.
Welcome to visit our facility or have a video call to take a look at our real-scene production process any time. Our clients are from worldwide, who are influential in European, SEA and US market.
We have enormous advantage in the following areas:
Sorting battery machine-2 channel, 6 channel, 10 channel , 20 channel.Prismatic,Polymer and Cylindrical
Spot welding machine- manual,automatic
Battery tester- comprehensive battery tester, charge-discharge againg tester, internal resistance tester, battery capacity testers,protection board tester
Nickel strips/Spacers/Fish Paper- Highly customized, according to the configuration.