Electric Drive Vehicle Automotive Technician Training Courses
This five-day course helps participants understand electric drive vehicles and how they operate differently from conventionally fueled vehicles. Participants will learn how to safely maintain hybrid electric and electric drive vehicles. The information covered in the course has helped participants pass the ASE L3 course. The number of electric drive vehicles is growing every year. Mandates such as the Federal Energy Policy Act require most large fleets to include alternative fuel vehicles (AFVs) in ever-growing numbers. In addition, many consumers have chosen electric drive vehicles.
Course materials provided:
Participant Manual – ISBN 978-1-933954-57-8
Includes review questions and learning activities
Each module of the Participant's Manual contains text, illustrations, explanatory figures and tables, module review questions, and a list of key terms and abbreviations
Course designed for:
Automotive Technicians
Secondary Education
Fleet Managers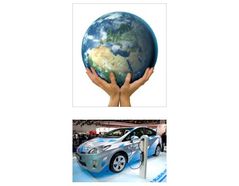 Taught by certified NAFTC instructors, this five-day course will enable you to:
Electric vehicle powertrain's for series, parallel and series-parallel hybrid, and fuel cell hybrid powertrains.
Personal protective equipment, high voltage insulating gloves, and how to field test prior to use.
Safety rating systems for electrical meters and leads.
Keyless start (smart key operation). Recognizing powered up, key modes, and how it relates, to the ready mode. Understanding DC to DC converter and vehicle charging of 12 volt system, and its relationship to power up key modes. Electric park switch, shift lever position, and how they communicate to the Power management ECU.
High voltage (HV) components, inverter including voltage boosting, HV service plug and how it relates to the interlock, high voltage battery, and System main relays.
Access HEV or EV CAN data, Parameter Identification (PID) data and how to use PID's for diagnostics on Ford, Nissan Leaf, Chevy Volt, Honda, and Toyota hybrids and Toyota Plug-in models.
High voltage battery pack testing, and diagnostics related to different types of hybrid batteries including lithium-ion technologies.
Different cell chemistries, air cooled, and liquid battery pack cooling systems, current leak detection of hybrid battery packs, including high voltage cables, electric air conditioning compressor.
Level 1 and Level 2 AC charging standards compared to DC fast charging. Explain how plug-in charging issues are tested, and diagnosed
Inverter control of torque and speed, inverters boost, explain how an inverter converts DC to AC, and AC to DC. Safely discharging an inverter, fault detection systems within the inverter, and how fault detection relates to the rest of the hybrid system.
Motor- generator operation, testing and diagnoses with all necessary diagnostic equipment needed to work on a hybrid vehicle and / or electric vehicles. Demonstrate Electrical measurements of phase -to phase resistance and insulation resistance.
Day one
Introduction to hybrid electric and other alternative fuel vehicles.
Day two
System main relays, and controllers that operate them
Day three
Hybrid batteries and battery diagnosis
Day four
Isolation fault detection motor testing and diagnostics
Day five
Chevy Volt, operation, testing and diagnostics