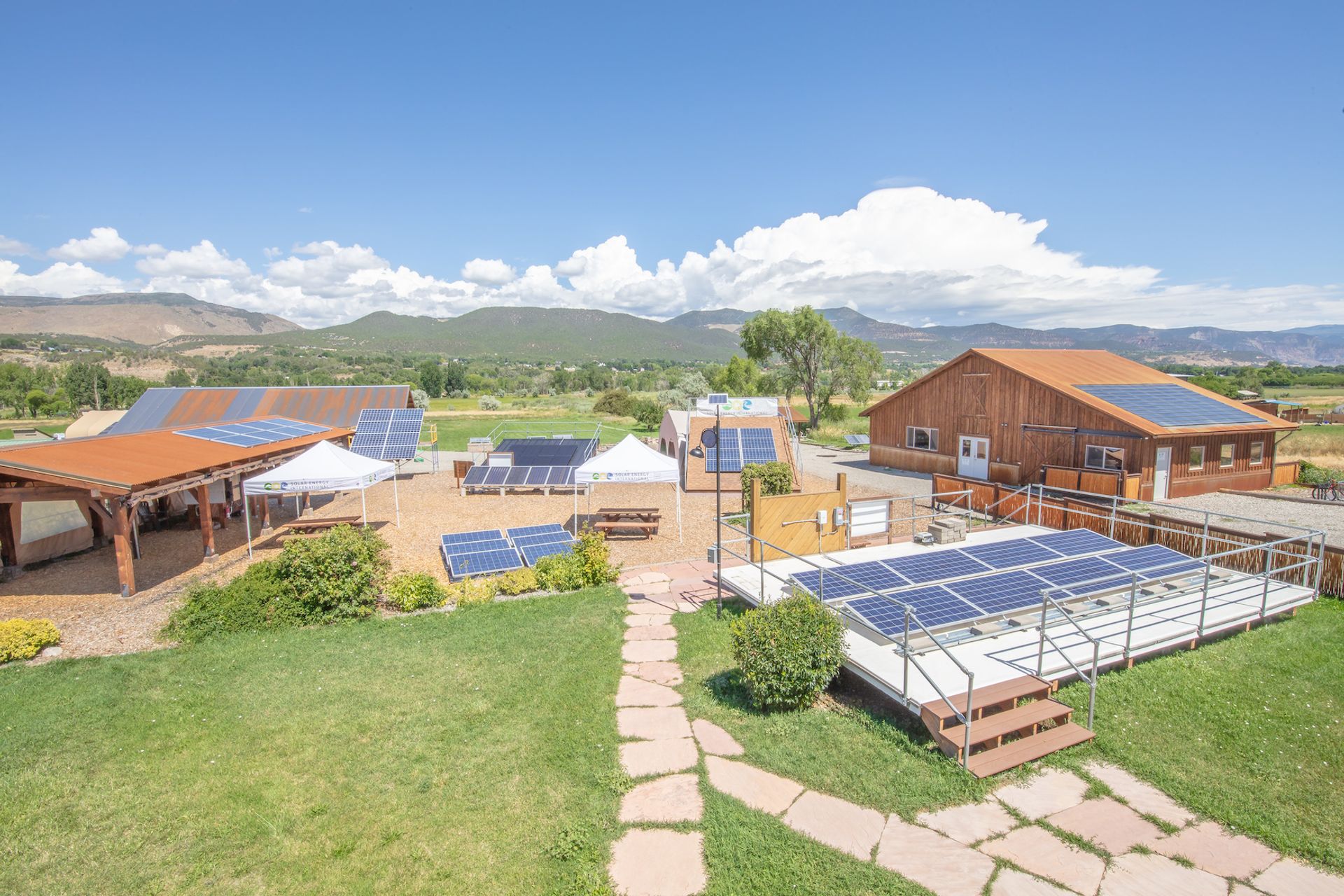 PV101: Solar Training - Solar Electric Design and Installation (Grid-Direct)
This course will provide an overview of the three basic PV system applications, primarily focusing on grid-direct systems. The goal of the course is to create a fundamental understanding of the core concepts necessary to work with all PV systems, including: system components, site analysis, PV module criteria, mounting solutions, safety, and commissioning. The course will also cover the basics of sizing a residential grid-direct system, wire sizing, overcurrent protection, and grounding – all of which will be expanded upon in PV202.
Students who complete the PV101 workshop will be able to perform the following:
Differentiate between various renewable energy sources and types of systems
Perform power and energy calculations
Evaluate utility bills and rate plans, perform a load analysis for a grid-direct system, and compare system production to energy consumption
Describe energy efficiency measures that can be implemented to reduce electricity usage and PV system size
Analyze different net metering rules, rebates, and incentives that affect the final cost of a PV system
Diagram and list the features, applications, and components of the following PV system types: DC direct, stand-alone, grid-direct, and grid-tied with battery back-up
Obtain and apply specifications for PV modules and determine their performance given various environmental and operating conditions
Identify various types of digital multimeters and explain how to use them safely
Diagram and determine the power, current, and voltage characteristics of PV modules in different series and parallel configurations
Determine the magnetic declination, define azimuth and altitude angle and evaluate the shade potential for a given site
Estimate energy production of a PV system based on location specifics including orientation and tilt angle
List the pros and cons of different mounting systems (ground, pole, roof, and trackers) and determine the number of modules that can fit in a given roof space
Given specific site criteria, evaluate what type of inverter is appropriate
Decipher balance-of-system equipment specification sheets to determine the critical information needed for system design
Design a residential grid-direct system including the array, inverter, circuit conductors, and overcurrent protection
Define equipment grounding, system grounding, and components and conductors used for grounding
Identify the following wires and components on schematics of residential grid-direct systems: disconnects, inverter, equipment grounding conductors, ungrounded conductors, grounded conductors, the grounding electrode(s), and the AC and DC system grounds
Identify potential safety hazards and the proper personal protective equipment for working on grid-direct PV systems
List the order of installation, commissioning, and decommissioning of a grid-direct PV system
PV101 PREP:
This online component allows immediate access to start your solar education! Students receive access information shortly after registration for PV 101. PV 101 PREP enhances students' learning experience and allows time to cover more information in the PV 101 course.
Students who complete the PV 101 PREP will be able to perform the following:
Differentiate between various renewable energy sources and types of systems
Perform power and energy calculations
Perform a load analysis for a grid-direct system and evaluate utility bills and rate plans
Implement electrical efficiency measures to reduce system size
The above objectives are covered in the mandatory PV101 PREP that must be completed before participating in a PV101 Solar Electric Design & Installation (Grid-Direct) workshop. PV101 PREP is an online, on-demand instructorless course, which will require approximately 10-15 hours to complete and will help you be successful in our PV101 workshop.
Both our in-person and online PV101 Courses cover the same curriculum with varying levels of hands-on experience offered in our in-person sessions. All PV101 in-person courses require completion of PV101 PREP online.
Prerequisites: Before participating in the PV101 in-person workshop, students are required to complete the self-paced PV 101 PREP online component (included in price of PV101, you will automatically be enrolled in PV PREP Online at the time you register for PV101).
To view online sessions of PV101, click PVOL101.
This workshop includes 5 days of classroom lecture with tours, in addition to approximately a 1/2 day of labs. Students receive an introductory level hands-on experience through the opportunity to work on lab kits. Students will wire a grid-direct system, including the inverter, disconnects, racking, and grounding, using commercially available components and small 20-watt modules.
After successfully completing this course and PV203, PVOL203 or PV203 PREP, you are eligible to sit for the NABCEP Entry Level Exam. The NABCEP Entry Level Exam includes questions on grid-direct and battery-based PV systems. For information on NABCEP and signing up for the Entry Level Exam please click here. Also visit www.nabcep.orgfor more on their recommendations. NABCEP Hours for Certification (per NABCEP)
PV Installer Certification Requirements:

If one takes the NABCEP Entry Level Exam and passes, this course will count for18 hours

of 'non-advanced training hours' towards taking the NABCEP Installer Certification requirements. If one does not take or doesn't pass the Entry Level Exam, then this course does not count for NABCEP hours. For information on the Entry Level Exam and to sign up to take the Entry Level Exam through SEI, please visit http://www.solarenergy.org/nabcep-certification.
PV Technical Sales Certification Requirements:

This course counts for 20 hours, which covers the PV Technical Sales JTA.
Solar Heating Installer Recertification:

This course counts for 6 Non-Technical continuing education hours.