Streamline resources and plan your market strategies in line with the shifting capacity trajectories. A set of global and six market specific 10-year MW capacity forecasts - spanning Chile, India, Morocco, Saudi Arabia, South Africa and the USA– generated from our proprietary forecasting model.
Three key scenarios modelled
Plan for every eventuality through accessing three MW forecast scenario outputs for each market; optimistic, conservative and pessimistic.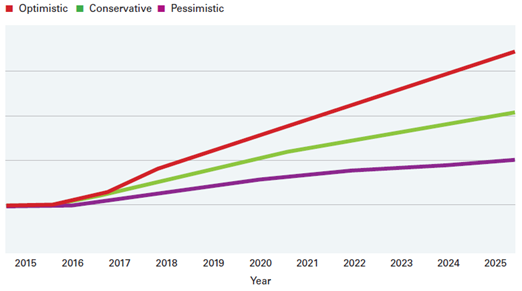 Proprietary model
Harness the value from our in-house model which considers 462 global and localized factors to bring you 10-year MW capacity forecasts for the global CSP industry before delving into the Chilean, Indian, Moroccan, Saudi Arabian, South African and USA markets.
Benchmark your own market appraisals.
Make like-for-like comparisons between markets on 22 key areas including grid coverage, ease of financing and PV price competiveness whilst using the forecasts to benchmark against your in-house analysis.
Click here for more information and a complimentary extract on Morocco>>