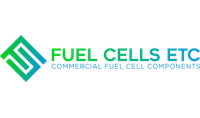 After the original manufacturer of ELAT Gas Diffusion Layer (GDL) stopped producing the material, many of the fuel cell industry had to scramble for replacements and were continuing their projects based on inventory already purchased.  We were no exception. After a fair amount of searching and evaluation, we finally found a replacement that had very similar mechanical properties.
So, for a number of years we educated our customers about the replacement as, well, a replacement for the "discontinued ELAT-1400″ and this phrase tended to stick as the easiest explanation of the alternative product to those already familiar with ELAT.
However, since Nuvant obtained the rights about 1.5 years ago and began producing the old ELAT-1400 (with plans to produce ELAT-1200 as well) it is obviously no longer discontinued.  My apologies to the Nuvant team for any unintentional slips by myself or the FuelCellsEtc marketing team.
While we still offer the "alternative" product as GDL-CT, if you would prefer the original ELAT-1400 as manufactured by Nuvant (made in USA!) we are more than happy to coordinate with Nuvant to supply you with what you need, or you can buy directly from us on our store.  You should also checkout some of Nuvant's other products!
FuelCellsEtc is also happy to provide catalyzed ELAT-1400 Gas Diffusion Electrodes (GDE) using the ELAT manufactured by Nuvant, just email us for a quote or check it out on our store!
Most popular related searches