Introducing The Battery Terminal - SimpliPhi Installer Podcast
Take a ride with the energy engineers from SimpliPhi Power and travel to new frontiers across the industry. We will cover terrain that spans energy storage, system design, equipment interoperability, renewable generation, codes & compliance, current events, and more!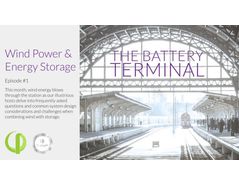 The Battery Terminal is conducted by our talented technical services team to bring you the most up to date information based on their work with distributors and installers all over the world to design and troubleshoot a range of distributed energy storage systems across applications and markets.
Troy Daniels (Technical Service Manager & IQ Program Administrator) and Matt Walker (Technical Trainer & Support) will be hosting discussions to provide you with updates on the latest technology, market intelligence and all things SimpliPhi Power before departing for various destinations in clean energy topics that you will want to explore.
Grab your tickets and hop on board for The Battery Terminal Episode 1: Wind Power & Energy Storage!
This month, wind energy blows through the station as our illustrious hosts delve into frequently asked questions and common system design considerations and challenges when combining wind with storage.
Topics and discussion in this month's episode include:
Can you charge PHI batteries easily from wind power?
How do charge controllers work in a wind system?
Time of charge variance and differences between wind and solar as generation sources.
What in the world is a 'dump load'?
Understanding battery limits and parameters with wind.
What are some of the benefits of including wind energy in your system design?