Projects Davenport Newberry Holdings, LLC. - Case Study
AltaRock Energy, Inc. actively manages over 40,000 acres of geothermal leases on the western flank of Newberry Volcano in central Oregon. The leases, held by Davenport Newberry Holdings, LLC. (DNH) and administered by the US Bureau of Land Management, represents a unique opportunity to test and develop Enhanced Geothermal System (EGS) technologies in the field. In partnership with the US Department of Energy, AltaRock Energy has been carrying out the Newberry EGS Demonstration project. This project aims to bring cutting-edge green energy technology to the forefront of the geothermal industry.

The Davenport Newberry Holdings leases are underlain by a large, conductive thermal anomaly. Although surface expressions of hydrothermal systems can be found inside the Newberry Volcano caldera, no naturally occurring hydrothermal systems have been found in the DNH leasehold area. Here, temperatures in impermeable rock reach 650o F at depths of 10,000 feet below the surface, making this area particularly well suited for EGS development. AltaRock Energy, Inc. has been acting operator of the geothermal lease area since January, 2013. More information about the project can be found by clicking here: Newberry Geothermal Energy.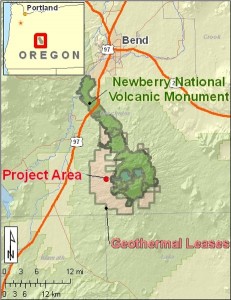 Location of NEWGEN project site and geothermal leases south of Bend, Oregon