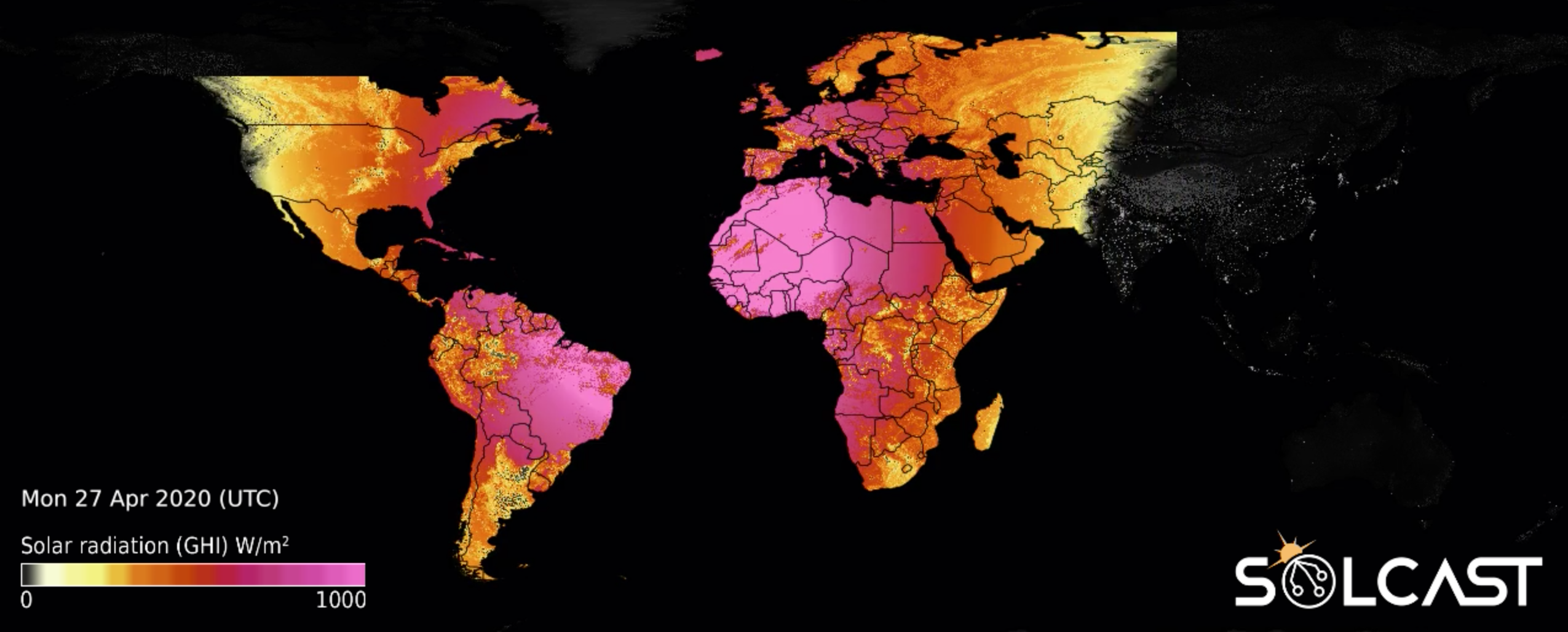 Forecast and current solar irradiance and weather data with global coverage and real-time accuracy reporting.
Most popular related searches
Solar radiation forecast and actuals data, worldwide
Based on our proprietary cloud and aerosol tracking and forecasting. Updated every 5-15 minutes, with forecasts extending 7 days ahead. Available at 5, 10, 15 or 30 minute time granularity.
Parameters

Global Horizontal Irradiance (GHI)
Direct Normal Irradiance (DNI)
Diffuse Horizontal Irradiance (DIF, DHI)
Cloud Opacity
Temperature
Solar zenith angle
Solar azimuth angle

Forecast probabilities:

Additional percentile forecasts (10th and 90th) provided for:
Global Horizontal Irradiance (GHI)
Direct Normal Irradiance (DNI)

Spatial coverage

All continents (Rapid update actuals and forecast data)
Global (forecasts)

Time granularity

Utility Scale Sites: 5, 10, 15, 20 or 30 minutes (Solar Radiation data is included with Utility Scale Solar Forecasts
Solar Radiation Sites or via Simple Lat / Lon requests: 30 minutes (period mean)

Update frequency: Every 5 to 15 minutes
Time span (Forecast): Present time to +7 days ahead
Time span (Live): 7 days ago to present time
Time span (Recent): 3 months ago to 2 days ago
API call options

Your choice of either:

Lat/lon based Simple Radiation Requests (allows greater flexibility)
Creation of weather site (greatest accuracy for the specific point)