Electric Drive Vehicle Infrastructure Training Courses
This two day course helps participants understand who has the authority to make decisions regarding jurisdiction, applied voltage and amperage versus supply equipment charging capacities, and understand electric vehicle supply equipment (EVSE), battery capacity, and charge time. The introduction of electric drive vehicles requires a unique infrastructure that includes specialized charging equipment and adequate electric service. Electric vehicle (EV) infrastructure is a carefully planned network that safely allows electricity to flow from a designated power source to an electric vehicle. The installation of electric vehicle infrastructure is an essential component for the sustainability of the electric vehicle market.
Course materials provided:
Participant Manual – ISBN 978-1-933954-59-2
Includes review questions and learning activities
Each module of the Participant's Manual contains text, illustrations, explanatory figures and tables, module review questions, and a list of key terms and abbreviations
Course designed for:
Fleet Managers
Decision Makers
Government Officials
General Public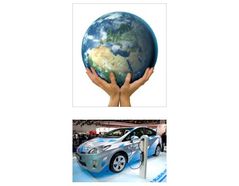 Taught by certified NAFTC instructors, this two day course will enable you to:
Describe alternative to petroleum use for transportation; electric drive vehicles.
Describe what electric drive is and how to identify it.
Describe electric vehicle infrastructure.
Describe how qualified electricians participate in the EVSE planning and installation process.
Describe the characteristics of AC (alternation current) and DC (direct current).
Describe the major players involved in setting EVSE codes and standards.
Explain the differences between on peak and off peak charging.
Describe the three levels of charge; Level 1 AC, Level 2 AC, and DC Fast Charging.
Understanding when an electrical panel upgrade is necessary.
Understand the construction and connections made to service panels and sub panels.
Explain the EVSE permit and the role of the AHJ regarding this permit.
Have the ability to define authority having jurisdiction (AHJ)
Explain electric drive fleet applications
Challenges for creating a sustained electric drive vehicle market
Day one
Types of hybrid electric vehicles.
Electric drive vehicle design
Plug-in hybrid electric vehicles and how they are different from range extending electric vehicles.
Electric vehicle applications.
Differences between internal combustion engine and electric vehicles.
Components of Hybrid and Plug-in and battery technology.
Onboard charging equipment and how it works with SAE J1772 type plug and connector.
Three different levels of charging and electrical requirements to support them.
Energy and the generation of electricity, including wind, solar, hydropower, geothermal power, and biomass.
Day two
Electricity measurements
Main Service panel, meter, amperage service needed for electric vehicle service equipment (EVSE) unit.
Electricity cost per Kilowatt hour, off peak charging and on peak charging.
Personnel involved with EV Infrastructure Installation.
EVSE manufacturers, electrician utility companies and authority having jurisdiction.
Electric vehicle and PHEV conductive charge coupler.
EVSE installation.