MicroPower

- Model 5 – 15 t - Micro Injection Molding
From Injection Molding - Toggle Machines
The MicroPower is setting benchmarks. It is characterized by a high degree of cost-efficiency, precision, flexibility and userfriendliness. The MicroPower represents another successful and substantial increase of customer benefit in injectionmolding of small, high-precision and micro parts.
Most popular related searches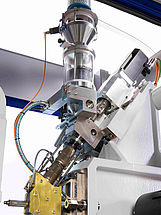 The main benefit of the MicroPower lies in its cost-efficiency. Through shorter cycle times and lower material and energy consumption, cost savings between 30 and 50 % can be achieved compared to standard machines.

From simple manufacturing of small parts to the production of injection-molded high-precision and micro parts, the consequently improved all-electric MicroPower offers optimal solutions thanks to its intelligent machine concept. This concept makes it possible to extend a basic machine model – starting from a simple "general purpose machine" for small parts – to a multi-functional production cell for highly complex micro parts, just by connecting modules.

Advantages:
Cost- and energy-efficient, economizing on resources.
Outstanding parts quality through processing thermally homogeneous melt.
Processing of all injectable materials with shot volumes of up to 4 cm³.
Precise and powerful.
Clamping unit
Every axis driven by its own servo.
Generous free space around the clamping unit.
The ejector comes with a servo-electric drive as standard.
Injection unit
The injection unit of the MicroPower can be regarded as the new benchmark in micro system technology. It is able to inject thermally homogeneous melt with minimal flow paths.
The highly dynamic plunger injection process ensures that even maximum pressures can be realized in the cavity with perfect repeatability. The injection aggregate also reduces the melt cushions and the sprue to an absolute minimum.
This technology offers a wide processing window, with the help of which high process stability can be reached very quickly. Not only small parts, but also micro and nano parts can be manufactured cost-efficiently and with repeatability in a minimum of time.